Why I love being an optometrist – #2 (My 12 seconds of fame!)
Have you ever heard an an eye clinic on a bus?
I hadn't either.
Several weeks ago I heard word of an opportunity to volunteer to give eye exams on June 2nd to some local individuals who were having a hard time making ends meet financially. It seemed like a great cause to me and I signed up.
My assumption was that I would be working out of the Carefree Optometry Clinic in one of their standard exam rooms.  (Carefree hosted the event – they are an organization which exists to offer vision, medical, and dental care to those in the Lansing area who have difficulty affording health care.) I would have had a great time working out of their building, but I got lucky when the opportunity arose to move to the parking lot.
Behold the VSP mobile eye clinic: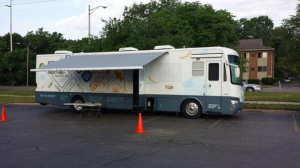 This "optomobile" contained a fully-functional exam room, optical dispensary (at least 150 frames if I had to guess) and an edging lab for grinding lenses into frames.  There were 2 VSP staff members and a volunteer optometric technician. Together, we were able to help a lot of people see better. It was a GREAT day.
Giving exams in this thing was an unforgettable riot. Aside from the fact that I felt like the substitute teacher who never knows where anything is at, the back end of the bus (where the exam room was located) bounced up and down at times – it was like I'd imagine giving exams on the moon!  I laughed, patients laughed – we all had a great time sharing a very fun remix of an otherwise ordinary health care experience.
It was fun to work alongside a handful of other private practice docs who also believed in the importance of clear vision for all.  These guys are outstanding examples to a somewhat recent grad like myself and I really enjoyed spending a day with them.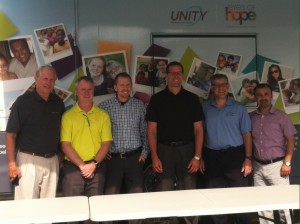 As great as the entire day was, I had my shot at 12 seconds of fame  when I looked over my shoulder to see a cameraman videotaping one of my exams!  Thank goodness Felicia gave me a haircut several nights prior to reduce what was becoming a mullet.
June 2nd was reason #2 I love being an optometrist.
-Dr. Chad